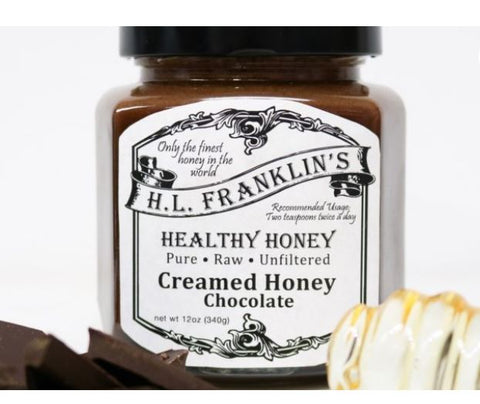 Acorn Pantry
Chocolate Creamed Honey
Taste the newest addition to the H.L. Franklin's Healthy Honey Family!
Our Chocolate Creamed Honey is whipped to perfection using only our pure, raw, unfiltered Georgia honey — there is no cream or anything else added when making it. This creates a superior, smooth, sweet taste and creamy texture. It's made with 100% organic cacao which is the purest form of dark chocolate and has the most health benefits including antioxidants and anti-inflammatory properties.You can use Chocolate Creamed Honey in all the same ways you traditionally use honey. Since it spreads well and doesn't drip or drizzle, it can be used as a spread, dessert topping or as a sweet treat straight from the spoon.
Our Chocolate Creamed Honey is also perfect for:
-Peanut butter & Creamed Honey sandwiches
-A spread or dip with apple slices
-Added to oatmeal or yogurt
-Spread it on a cracker with a piece of cheese
-It dissolves well in tea & coffee
-It's a great spread for ham, turkey or any kind of sandwich
PKG. & Size
Packaging: Glass jar with lid.
Size: 9.4 oz
Shipping
Shipping
FREE SHIPPING on orders over $125
$9.95 Flat Shipping on orders less than $125. 
We work very hard to ship online orders within 24 hours, or on the next business day after you order. At times additional lead times may occur especially during the holiday season or special sales.