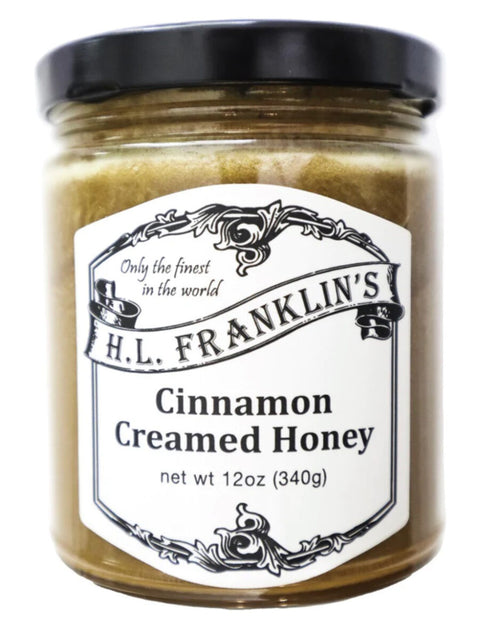 Acorn Pantry
Cinnamon Creamed Honey
Our Cinnamon Creamed Honey is whipped to perfection using only our 100% pure, raw, unfiltered, Georgia honey and organic cinnamon which has been known to have antioxidants and anti-inflammatory properties. There is no cream or sugar added. We whip it in small batches for a creamy consistency making it easy to spread. Our Cinnamon Creamed Honey is NEW to our creamed honey product lineup and customers call it a game-changer!  
Because there are no added binders or fillers, overtime, our Creamed Honeys can separate in color. Simply stir well before serving.
You can use our Cinnamon Creamed Honey in all the same ways you traditionally use honey. However, due to its creamy consistency and because it doesn't drip or drizzle, it can be used as a spread, dessert topping or as a sweet treat straight from the spoon. Our Cinnamon Creamed Honey is also perfect for:
Peanut butter & Cinnamon Creamed Honey sandwiches

A spread or dip with apple slices or strawberries

Added to oatmeal or yogurt

Spread it on on toast or on an english muffin

It dissolves well in tea & coffee

Spread on pancakes or waffles
A great dessert spread or atop ice cream
Treat yourself to a jar of our Cinnamon Creamed Honey now for a perfect paring with your next meal!
PKG. & Size
Packaging: Glass jar with lid.
Size: 9.4 oz.
Shipping
Shipping
FREE SHIPPING on orders over $125
$9.95 Flat Shipping on orders less than $125. 
We work very hard to ship online orders within 24 hours, or on the next business day after you order. At times additional lead times may occur especially during the holiday season or special sales.