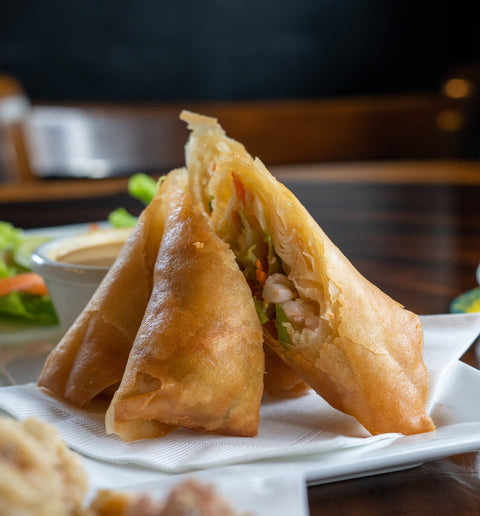 Hands-on Eggrolls
Wednesday, August 16th, 6pm
Learn the secret techniques of restaurant style eggrolls that are crispy and delicious every time. So easy. Chef Andy will be sharing his mother's secret dipping sauce.
Flavor Profile
Taste: Sweet with warming aromatic spices
Aromatic chai spices and apples marry together for warming and full flavor. The Apple Chai Sugar Shaker is perfect for sprinkling over lattes, topping oatmeal and fruit, or baking a variety of sweet breads and cookies. Made with organic cane sugar, this is sure to add a little sweetness to your day.
How to Enjoy:
Tossing with apples or pears before baking into pies or crumbles. 
Sprinkling into the dough or batter for sweet breads, cakes, or muffins. 
Seasoning root veggies like carrots, parsnips, or beets before roasting.
Nutrition
Ingredients: Organic Cane Sugar, Apple Powder, Cinnamon, Ground Ginger, Turmeric, Kosher Salt, Cardamom, Cloves, Black Pepper, Nutmeg, Vanilla Bean Powder, Natural Flavor. 
Nutrition: Serving Size 1 tsp (3g), Servings Per Container 19, Calories 10, Total Fat 0g (0% DV), Saturated Fat 0g (0% DV), Total Fat 0g (0% DV), Cholesterol 0 mg (0% DV), Sodium 15mg (1% DV), Total Carb. 3g (2% DV), Fiber 0g, Total Sugars 3g, includes 2g of Added Sugars (4% DV), Protein 0g, Vitamin D 0 mcg (0% DV), Calcium (0%DV), Iron (3% DV), Potassium (0% DV). Percent Daily Values are based on a 2,000 calorie diet.
PKG. & Size
Packaging: Glass jar with plastic shaker lid. 
Size: 65g (2.29oz)
Shipping
Shipping
FREE SHIPPING on orders over $75
$8.95 Flat Shipping on orders less than $75. 
We work very hard to ship online orders within 24 hours, or on the next business day after you order. At times additional lead times may occur especially during the holiday season or special sales.